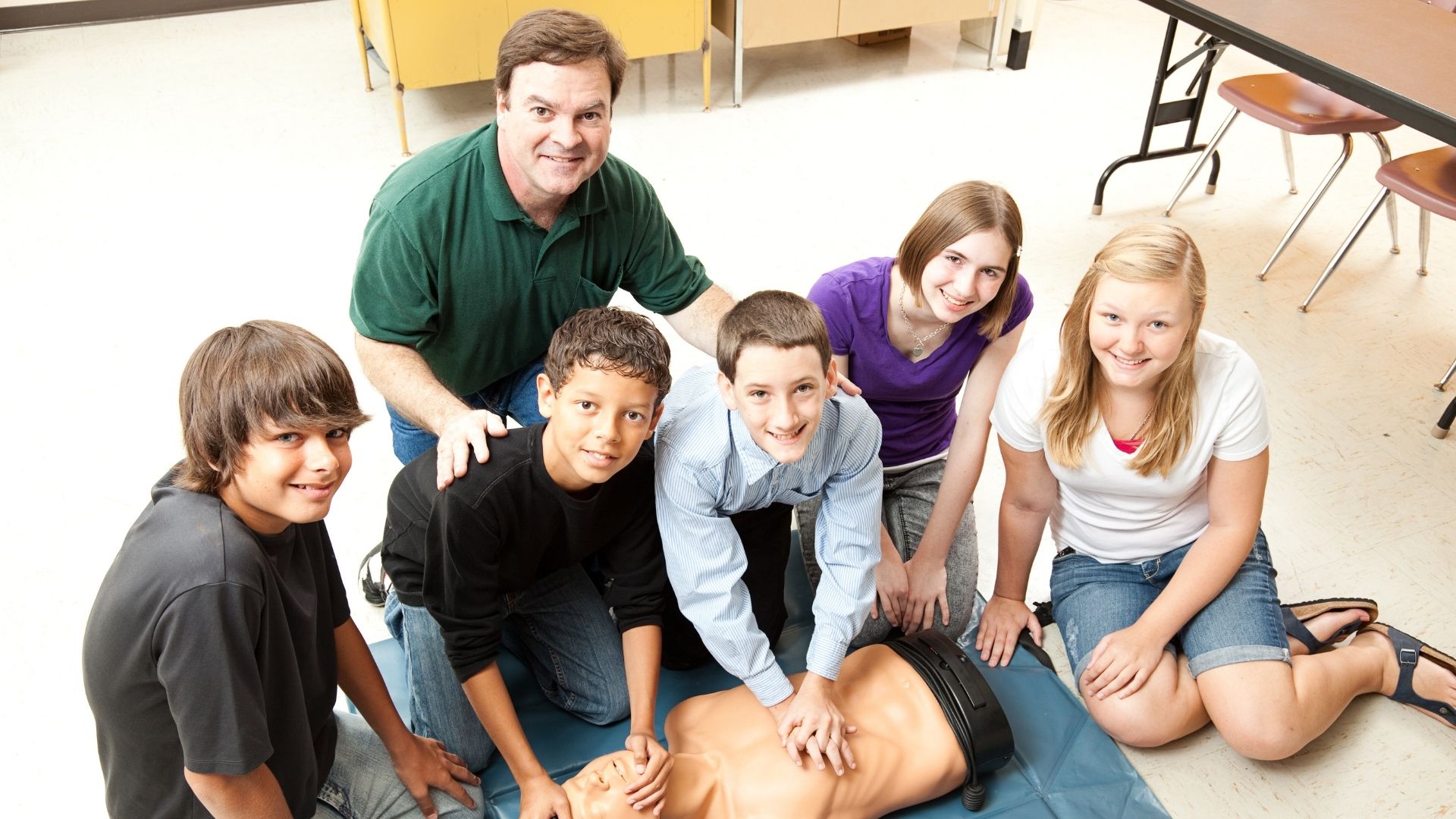 There is always the debate of In-person Vs. Online CPR certification classes, and we'll break down both sides. Digital learning platforms accelerated in popularity starting in early 2020, and by 2027, it is projected that the number of users of such platforms will reach 920.8M. Undoubtedly, online learning has picked up speed, and many don't want to return to physical education.
However, some sectors require that the person also takes part in a practical exam, such as CPR courses.
There are many advantages to in-person CPR courses. Still, our goal is to point out the benefits of both online and physical classes.
This article will outline all the details of in-person vs. online CPR certification and support you in making a final decision.
Why Do Employers Prefer Certified Professionals?
All healthcare professionals, emergency responders, childcare providers, social workers, and those who are part of law enforcement and security staff must own CPR certification. If CPR certification is part of your job's requirements, taking a course is a necessity, no matter if it is based online or on-site.
The American Heart Association and the American Red Cross organization are renowned for offering training and recertification to working professionals. There are employers that accept online certifications. Still, many prefer applicants that have attended in-person classes as they find them more trustworthy.
Finding a Legitimate Certification Course
Nevertheless, no matter the type of class you opt for, ensuring that your course provider abides by the American Heart Association (AHA) guidelines is crucial.
As part of the information section of the official website, the AHA includes a comprehensive guide that can help people learn how to check the validity of the training center and the certification they receive.
Note: When CPR credentials are nearing their expiration date, professionals may sign up for renewal and recertification.
What to Choose: In-Person Vs. Online Certification?
As our society marks technological progress, we begin moving from physical, in-person training toward online classrooms. Online classes make it easier for people to obtain a degree or certification no matter where they are in terms of residence.
These types of classes offer greater overall inclusivity and flexibility. However, just like on-site CPR courses, they also come with their benefits and drawbacks.
Online programs are more affordable and allow learners to pick up at their own pace. On the other hand, attending in-person classes makes less room for distractions and ensures participants are actively involved in the process.
Nonetheless, some benefit more from face-to-face interactions, which is why many argue that CPR classes are best to attend in person.
Considering both arguments, the American Red Cross organization has introduced a line of blended classes. These classes allow learners to master the material online while also getting a chance to demonstrate their performance and receive feedback from a CPR instructor in real life.
In-Person Vs. Online Certification
The first thing we should note is that participants will receive the same level of certification no matter which type of classes they opt for.
What separates these types of certifications is the type of classroom experience they offer which you can learn more about below:
In-Person CPR Certification
In-person classes, similar to online learning modules, equip participants with all the life-saving skills noted by the American Heart Association. By receiving this type of training, learners will attain the competencies they need to respond accordingly in case of life-threatening emergencies.
The majority of in-person classes follow a one-day format, ensuring that even busy individuals can attend and participate in the lecture. Compared to the online certification process, this one takes a more personalized approach. The instructor may incorporate many different teaching methods to address students' needs, making sure they fully understand and master the life-saving skills in question.
Note: The AHA does not impose minimum age requirements for their CPR courses as studies have shown that even children as old as 9 may attain the basic CPR skills.
What Does an In-Person CPR Class Look Like?
An on-site class incorporates all that you'd expect from a typical CPR school training session. The instructor usually begins the class by introducing some common lecture topics.
These classes are largely based on attaining hands-on skills practice, meaning participants are expected to act out a given life-threatening situation to ensure they are comfortable with taking control of such a situation. As part of their regular practice, participants are expected to perform CPR on a manikin.
Online CPR Certification
Online classes can be easily arranged to fit into your schedule. They are easy to access and take only a few hours to complete. The best thing about this type of certification is that all you need to attend a class is a stable internet connection and a laptop or phone by hand.
What Does an Online CPR Class Look Like?
Online classes are typically divided into several modules, allowing learners to access the materials at any given time. After grasping the material, participants are required to pass the certification exam, after which they can obtain a digital copy of their certification.
Upon completion of the course, the American Heart Association issues an eCard, which participants may claim via email, SMS, or through their official website. The certificate card remains valid for the following two years.
Note: Online courses do not oblige participants to demonstrate in-person skills as the process is entirely based online.Some even provide learners the opportunity to learn the technique hands-on and 100% virtually.
Advantages of In-Person Vs. online Certification
Below are the primary benefits of face-to-face CPR classes:
Hands-on training provides learners with an opportunity to practice the skill they've learned.
In-person training ensures participants master the technique accordingly. If a learner demonstrates CPR resuscitation incorrectly, the instructor can point out the mistake.
Traditional classrooms offer a better opportunities to seek clarification. Participants may ask questions and communicate with the instructor and other participants face-to-face.
Advantages of Online vs. In-person CPR Certification
Let's address some of the top advantages of online classes once again:
Online classes make use of pre-recorded videos, and learners can pause or even revisit videos to refresh their memory before taking the test.
Online certification is easily accessible and carried out entirely remotely, meaning participants can learn at their own pace.
Digital CPR classes usually don't cost as much as physical ones as all the training is done virtually.
CPR Renewal and Recertification
Renewal courses are designed for those whose credentials are still valid but near the expiration date. They take less time than the primary courses and add an additional two years of validity.
The American Red Cross offers a wide range of different continuing education units (CEUs), through which certified professionals may maintain their credentials and continue their education at their own convenience.
Understanding In-person vs. Online CPR Certification
The first thing you should take into account before deciding between in-person vs. online CPR certification is the type of classes your employer prefers. If no preference is noted, you may choose the one you find more appropriate to your situation.
Visiting a training center can be of great benefit. However, if you are confident in your skillset or are interested in the recertification process only, you can choose virtual lectures. As we discussed earlier, all participants receive the same level of certification, valid for the same duration.